My Top Africa Travel Tips: Everything You Need to Know
When you're planning a trip to Africa, you will most likely come across all sorts of information.
The news always shows the most negative aspects of Africa, which is only part of the day to day Africa that I know and love. Unfortunately there are very few reports about all of the wonderful and great things happening on the African continent, so it's not uncommon to feel nervous about going there.
I was scared and a little confused the first time I went to Africa too. Not to mention all the comments, concerns and objections people express when you first tell them you are going to Africa, especially as a woman, on her own!
What you (or more likely your well-meaning friends and family) need to remember Africa is a huge continent made up of 54 countries. Of course there are dangerous places (as there are in every continent) but most dangers can be easily avoided or managed.
I've travelled solo using public transport, taken a 2.5 month overland truck from Nairobi to Cape Town, self-driven, camped in the bush, stayed in hostels and luxury safari lodges, lived like a local, volunteered and worked as a tour guide. And now I am an Africa travel blogger and I run my own small group, African adventure tour company, so I've done it all!
And I want to show you, how you can travel through Africa in a fun and safe way too!
So to help you prepare for your upcoming travels, I've pulled together all my top tips and advice for travel in Africa, based on my experiences and all the things I was curious about before I went.
I originally wrote this post for solo female travellers in Africa, but it applies to everyone really –  men, couples, families and groups of friends too! Whether you're going for a couple of weeks or overlanding through multiple countries.
Passports
Your passport needs to be valid for 6 months after the date you intend to leave the country and you will need to have at least 2 blank pages for every country you intend to travel to. I almost didn't get let into Morocco because I didn't have a free page. I had lots of space, but no free pages. They let me in, but I got a telling off from border control.
So make sure you have room in your passport for the countries you intend to travel to.
If you have dual nationality, it's worth checking both of your passports to see which one will work best for you. However, if you are travelling to different countries, you can only use one passport for the duration of your trip.
Visas
You will need a visa for most African countries. For some countries or special types of visa you will need to apply in advance.
For some countries or special types of visa you will need to apply in advance.Sometimes this is online and other times from the embassy in your own country or in a neighbouring African country.
Others you'll be able to get at the point of entry (airport/border).
Most East, Southern and North African countries allow most people to purchase visas on arrival (not all, but in general). Whereas most Central and West African countries require you to apply in advance.
If you are working as a volunteer, you will often need to get a special volunteer visa.
However, there are some exceptions and it can vary depending on your passport. Always check the rules for your nationality and your passport, as it varies. For instance, let's look at Rwanda. If you are from the UK, you can get a Rwandan visa on arrival, but if you are from Singapore you don't need a visa, but if you are from France, you need to apply in advance (or so the website says).
Project Visa is a great resource to get information on your specific visa requirements.
If obtaining the visa on arrival, ensure you have the correct money in the currency required – usually dollars (sometimes euros) and have that amount easily accessible, away from your hidden cash so you are not having to rifle through your bags or counting money out in the open.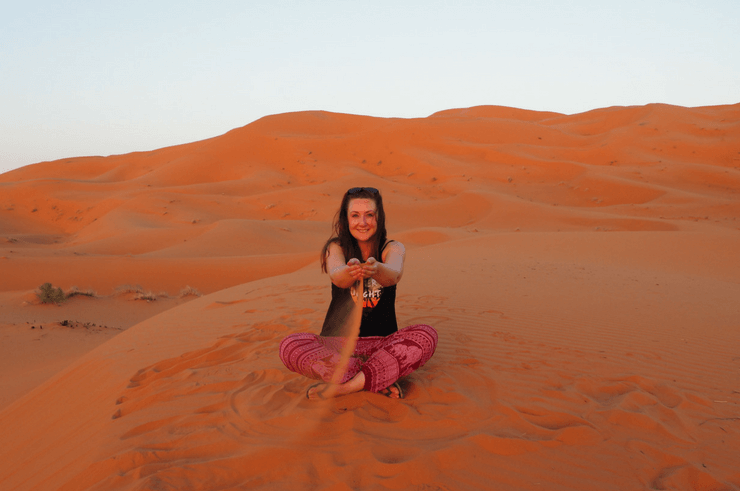 Preparing Your Money 
If I have cash on me when I arrive, I usually have most of it hidden in my carry on luggage (split into a few money wallets) and then a small amount in my every day purse which I carry in my handbag.
I usually bring pounds (as I'm British, but you would bring your own currency) and dollars for visas and some activities. It might also be good to take euros for some countries (especially in North or West Africa). If I can, I sometimes take some of the local currency too, if it's available (some countries have closed currencies, which mean it is only available in that country).
If I don't have the local currency already, I usually use the ATM at the airport when I arrive (if there is one) or if not, change just enough money to get to where I need to be.
Then I use ATM's as I go. However, it's always good to have cash to change, just in case the ATM's aren't working/empty.
I never carry travellers cheques as they can be a pain to cash. That's just my personal preference.
Top Tips:
Have a look at Martin Lewis's website to see who is offering the best currency exchange rates. I usually use Marks & Spencer because they have good rates (especially if you have a M&S credit card) and I also like the ladies who work on the counter in my local branch (they're always so excited to hear about where I'm going).
Visa is much more widely accepted than Mastercard or any other card so always take a Visa card with you.
Remember to tell your bank where you are going, otherwise they may block your cards.
Try and get cards that don't charge commission when you take out money in a foreign country.
There are ATM's and FOREX bureaus in most major cities and towns but you may have to try a couple as they don't always have enough money in.
Sign up for Western Union, just in case you need money wiring to you. There are Western Union branches everywhere.
Download a currency conversion app onto your phone (I use Units Plus) so that you can always check how you are paying, as it can get confusing when you are moving between countries that have similar currencies, with different values. I once confused Tanzanian Shillings with Kenyan Shillings and accidentally ordered a £50 bottle of wine at Carnivore in Nairobi. Ouch! It still makes me cringe when I think about this.

Vaccinations and Malaria Prevention
I'm often asked about what vaccinations, malaria and other health precautions you have to take when travelling to Africa, but I am not a doctor or medical practitioner, so I would advise you speak to one asap! However, here's some guidance, based on my own experience.
The World Health Organization is the place to find out about any particular issues that are affecting the areas you might be travelling to or you can try The Travel Doctor, another great resource when looking at what precautions you need to take in which countries.
First port of call is to speak to your doctor or a specialist travel clinic – they should be able to advise you on what you need to do and your doctor may be able to give you some of your vaccinations for free, or on a cheap prescription.
For everything else go to your local travel clinic. I use Nomad Travel Clinic or Boots Travel Clinics in the UK.
Just remember that travel clinics are businesses, so they will advise you get everything. Your doctor may be less over zealous with the injections, so you need to weigh up the risks v's costs yourself.
The truth is there aren't many you HAVE to take (apart from getting a Yellow Fever vaccination certificate for entry into some countries – see below), but there are a lot that you are advised to take.
Vaccinations
Aside from your routine vaccinations (MMR, Polio, Diptheria, Meningitis etc) – Hepatitis A, Hepititis B (3 x vaccinations), Tetanus and Typhoid are all highly recommended.
3 x Rabies vaccinations are also recommended if you are going to be visiting any remote areas or likely to come into contact with animals.
A Yellow Fever is compulsary for some places (see below).
Just remember that you need to get some over the course of a few months, so don't eave it to the last minute.
Yellow Fever
A Yellow Fever certificate is required if you are travelling from a country where Yellow Fever is a risk (this can include transit too but only usually if you have spent more than 12 hours in a risk country) – you can find more info about whether you need a Yellow Fever certificate here and here.
Do make sorting out your Yellow Fever certificate a priority as some countries will not let you in without it, or they'll make you get a shot at the airport (if available).
Malaria
Malaria is rife in many parts of Africa. Taking anti-malarials is a personal choice and some people don't like them as the side effects can be a bit nasty. I do take anti-malarials, that's my choice and I've never had any trouble with the ones I've tried. If you choose to take them, your doctor can advise the best ones for you.
Always test them out a few weeks before you go. If you do get side effects, probably best to find out before you leave home.
Some people choose to get some from home and then buy the rest in Africa as they tend to be a bit cheaper over there. just make sure you buy them from a reputable pharmacy.
See below in the 'Staying Healthy' section for more info on malaria prevention (just remember some malaria tablets make the contraceptive pill ineffective).
Travel Insurance
Travel insurance is a must when travelling in Africa (or anywhere else in my opinion).
Make sure that the policy you take out covers you for all of your travel requirements, including the sometimes remote nature of Africa travel and any adventurous activities that you wish to do.
I usually use World Nomads however, they don't cover everything, so it's always best to double check that they cover your planned activities. If not, you may need to get specialist cover.
For some African countries with travel warnings get in place (like the DRC), you may need to get specialist insurance.